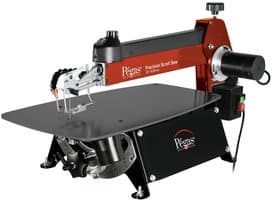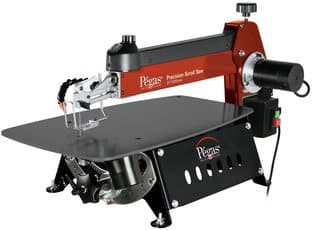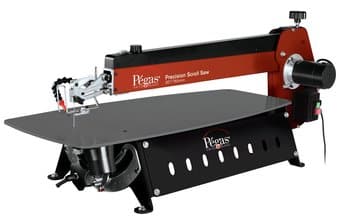 A.The head can be tilted 45° to the left or right, allowing the blade to be tilted rather than the table to :
better control of the workpiece
better accuracy
maximum comfort and convenience
​
B.The upper arm lifts up for quick and easy blade change - a real advantage when working with different interior cuts.

C. The manual blade locking system requires no tools. This allows the user to change the blades very quickly. Meanwhile, the tensioning system allows the same tension to be applied to the blade when it is changed.

D. Easy access to the on/off switch and speed control on the front of the upper arm.

E. The blower device combined with a dust collector allows direct and efficient dust removal.

Pégas® scroll saws are high-precision tools that, with minimal maintenance, will provide you with reliable service and great satisfaction for many years. Machine designed in Switzerland – manufactured in Taiwan according to rigorous specifications and quality requirements set by Scies Miniatures.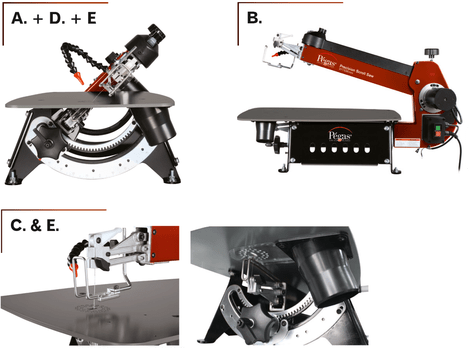 Specifications

SCP16CE

SCP21CE

SCP30CE

Total length

686 mm

812 mm

1100 mm

Total width

380 mm

380 mm

394 mm

Height

432 mm

380 mm

 387 mm

Blade tilt

To the left 0° - 45
To the right 0° - 38
To the left 0° - 45
To the right 0° - 38
To the left 0° - 45
To the right 0° - 38

Collar

406 mm

535 mm

762 mm

Maximum cutting depth

52 mm

52 mm

52 mm

Speed rpm

400 to 1400

400 to 1400

400 to 1400

Work table

305 x 470 mm

345 x 597 mm

358 x 825 mm

Engine

220 - 240V - 1.5 A

220 - 240V - 1.5 A

220 - 240V - 1.5 A

Gross weight / net weight

31 / 24.5 kg

36 / 29.5 kg

53 / 44 kg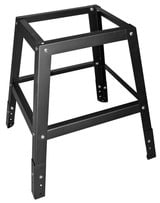 SUPPORTS
No. SCP16ST Adjustable bracket for SCP16CE
No. SCP21ST Adjustable bracket for SCP21CE
No. SCP30ST Adjustable bracket for SCP30CE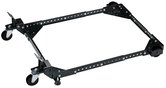 UNIVERSAL MOBILE BASE
N° SCP01MOBASE

Adjustable mobile base for SCP16CE, SCP21CE & SCP30CE and for Pegas scroll band saw
- 2 heavy duty 3" (75 mm) wheels 
- 2 heavy-duty 2 ½" (63 mm) casters 
- 2 rubber feet for adjustment
- Adjustable in 1" (25 mm) increments 
- Load capacity: 500 lbs (227 kg)
- Min. square dimensions 11" x 11" (279 x 279 mm)
- Max. square size 35-1/4" x 35-1/4" (894 x 894 mm)
- Minimum rectangle size 17" x 11" (434 x 279 mm)
- Max. rectangle size 51" x 19" (1295 x 483 mm)